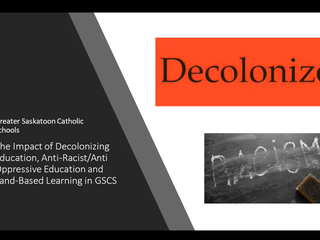 The Impact of Decolonizing Education, Anti-Racist/Anti-Oppressive Education and Land-Based Learning in GSCS
Facilitate by:
Mika Lafond

Mika Lafond is a member of the Muskeg Lake Cree Nation. She graduated with her Bachelor of Education from ITEP in 2006 and completed her MFA in writing in 2014. She is a mother, published author, sessional instructor, high school teacher and education consultant. She has worked in education for nearly 20 years. She began her career in her home community and created the kihtwam program for high school students who were disengaged from school. The kihtwam program was designed to be a holistic program that brought students back into the circle of education. The focus was to recognize their talents and gifts to engage them in learning.

Mika continues to work on developing programs and has been a consultant for the Office of the Treaty Commissioner writing treaty resources for the Treaty kits. She has worked with Muskeg Lake Cree Nation on various projects to provide resources to the school and community in the areas of arts, history, education, and child-rearing. From 2020-2022, Mika has worked with Connected North to bring creative writing classes to elementary and high school students in northern communities across Canada.

She taught high school for Saskatoon Public Schools Online Learning Centre throughout the pandemic in 2020-2021. Mika piloted the Indigenous curriculum with Meadow Lake Tribal Council in 2021-2022. She is currently working with Oskayak High School to re-evaluate the English Language Arts program there to create a more Indigenous based literature/language program.

Mika teaches at Indian Teacher Education Program at the University of Saskatchewan. Her ability to teach a wide variety of classes has enabled her to experiment with a multitude of methodologies and develop a wide range of expertise.
Public Video